So, why a Digital Product Business?
Whether you're looking to work from home to free up time and spend more time with the kids or if you simply want to enjoy more time to travel or do what you love, a digital product business is your vehicle to get you there!
Think about it, what other business will allow you to work where, when and how you want?
Sure, if you buy a franchise rights to a successful business you could do well, however, who has hundreds of thousands of dollars to invest and risk?
Talking about risk, a digital product business has little to NO RISK.
You register a domain name, get web hosting and perhaps outsource some content. In the end, you would've only spent $100 max.
That's very little loss for most of us, wouldn't you agree?
Another reason why you should start a digital product business is that it's a completely automated business. You set everything up once and simply drive traffic!
Excited yet?
I'm glad you are!
The big question is, how can you get started today?
The great news is, I've written courses especially to help you launch your very own digital product business!
Allow me to introduce you to…
How To Launch a Digital Product Business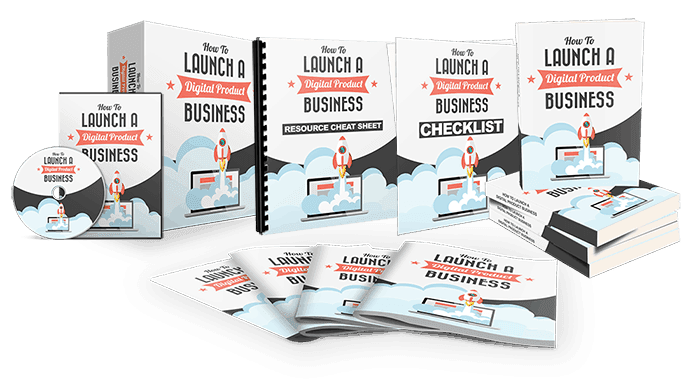 Throughout this course, we're going to go through every stage involved in the creation and sale of digital products.
In particular we're going to focus heavily on how you actually go about launching your product and generating huge sales for it once you have the idea using tools like JVZoo.
As you'll see, creating digital products is actually very easy – it's just turning them into massive hits that's a little more challenging.
Here's what you'll get inside the How To Launch a Digital Product Business course:
You'll have an idea for the type of digital product you want to create and what the strengths and weaknesses of each option are
Understand what makes digital products sell and how you need to design your creation in such a way that people will be eager to buy it
Know how to quickly and cost effectively create the type of digital product you want
How to create a potential hot-selling eBook
How to create a software such as a web based tool or mobile app.
How to create a video training course and the equipment and software you need to successful create one
How to add your product in JVZoo.
How to create checkout pages, landing pages and sales funnels
How to write highly persuasive copy that drives massive sales
Know how to alter things like price, cover image and more in order to optimize your sales
Understand how to drive more traffic to your landing page using SEO, PPC, e-mail marketing and social media
Understand affiliate programs and tools like JVZoo, ClickBank and WSO Pro
Know how to build an army of affiliate marketers who can drastically increase your sales and profits
…and much, much more!
---
Inside you'll find:
Ebook creation resources
Software creation resources
Video recording resources
Outsourcing resources
Web page and design resources
---
What you get:
Videos
eBook
Mindmap
Cheat sheet
Resources